Immigration Services in Spain
Make Spain Your New Home!
Discover all our immigration services and get to contact a highly-skilled immigration team available to help you at all times.
What Do I Need To Live Legally in Spain?
If you will be living in Spain as a foreigner you will need this documentation
Whether you're starting from scratch or need assistance with specific documents, our expert team efficiently manages each case, prioritizing their timely acquisition and minimizing potential risks in the application to get: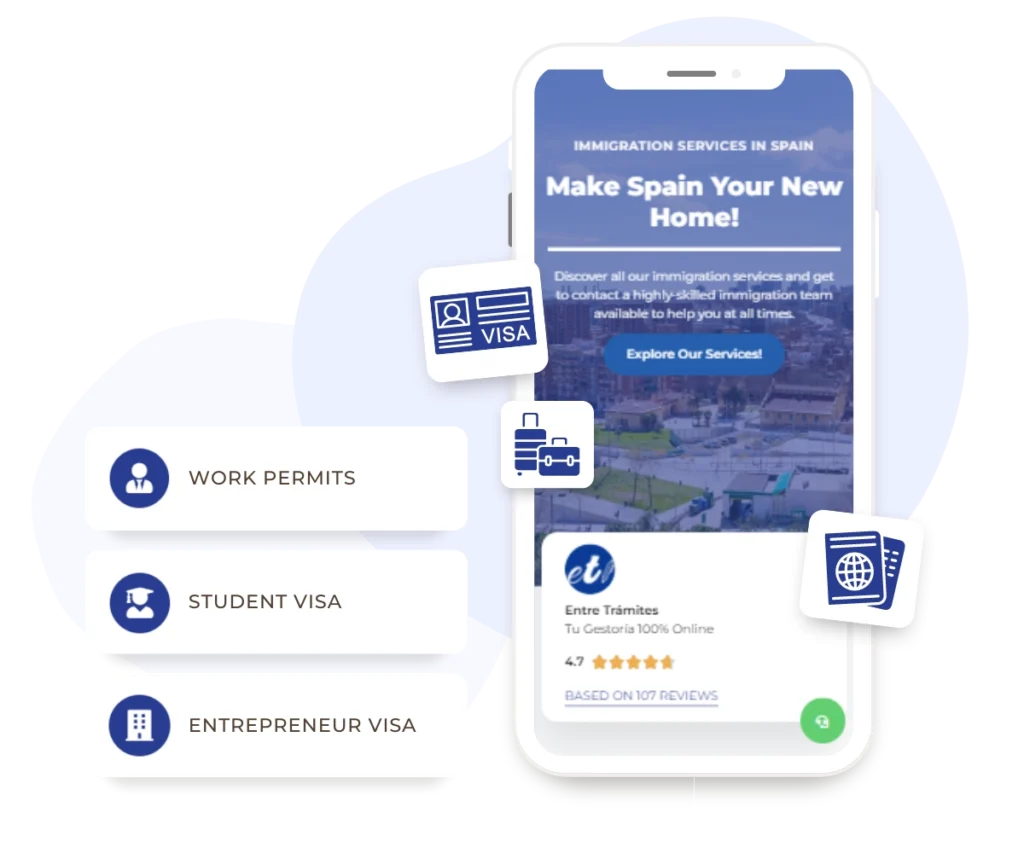 Experience in procedures all over Spain
With our extensive experience, we are well-versed in handling administrative processes across the country.
From Barcelona to Madrid, Valencia to Seville, trust our professional team to efficiently manage your immigration procedures, ensuring a smooth and successful outcome.
What permits and visas do we offer?
Choose what you want to do in Spain and we'll display the options that may suit you
Here's Other Popular Immigration Services
Can't find the procedure you were looking for?
Contact us and know which one would work best in your case
Read All Our Client's Reviews
¡Muy recomendable! Trato amable y muy profesionales. Tenía dudas sobre abrir una empresa en Estonia y en una videollamada Louis me aclaró todas las dudas. Muchas gracias 🙂
Great experience with them, and special shout out to Dahianna for her prompt replies and patience in clarifying my questions. Removed all headache from me, which was the most important. It costs more than just helping with bookings, but for us it was worth the services provided
Sandra Vergara
18/11/2022
Tuve una cita gratuita con Elizabeth y me pareció muy buena la atención. Tiene el conocimiento necesario y aclaró todas las dudas que tenía. Gracias por su servicio
Falta de profesionalidad y tardanza en las respuestas. Por el mal asesoramiento se nos alargó el proceso meses. Lo positivo es que al final nos devolvieron el dinero.
Servicio excelente, rapidez, profesionalismo. Empáticos con las situaciones de los clientes. Luego de hacer tu pago, te llega un email con los pasos a seguir, con el nombre de tu asesor y demás detalles, brindando muchísima confianza (cosa que falta en muchísimas gestorías actualmente). Los recomendaría al 100% si quieres que te atiendan profesionales reales que les IMPORTA genuinamente el éxito de tu proceso legal.
Justina Oigbochie
22/10/2022
If you want 100% excellent client service, follow up and results I would recommend entre trámites They really amazed me and I recommended them to my school and entire network. Thank you for your support guys.
Un excelente servicio, súper amables, muy profesionales y con todo el conocimiento necesario! Recomiendo sus servicios 100%.
Very helpful and informative consultation. They are knowledgeable and have up to date information about Spanish tax laws and upcoming changes to autonomo fees.
Muy profesional...y las dudas resueltas muy rapido....espero aconsejarlo para amigos.
Entre trámites tiene un equipo joven y muy dinámico. Saben de lo que están hablando y saben cómo aconsejarte para que tú y tu empresa obtengáis el mejor resultado posible. Indispensable para navegar el laberinto de la burocracia española. A very knowledgeable team. I will definitely keep using them. Excellent work.
Get advised by our English-speaking immigration experts!
Our free consultation service ensures that you receive expert advice tailored to your specific needs. Book your consultation now!
Assessment: Our immigration lawyer will evaluate your personal circumstances and determine the most suitable procedure for you.

Documentation: We will help you gather all the necessary documents and information required.

Application: We will complete and submit your application to the relevant Spanish authorities on your behalf.

Follow-up: Our immigration team will also monitor the progress of your application and provide updates on its status. We will assist with any additional requirements or questions from the authorities.
While we cannot guarantee that your application will be approved, we can help you prepare your application and provide guidance on how to make it as strong as possible.
We have experience working with Spanish consulates and embassies, and we can help you navigate the application process and ensure that all necessary documents are submitted correctly.
The cost of our immigration services can vary depending on the specific services you hire and the level of assistance you need. 
A specialist will always review your case and provide you with the adequate quote for your case.
Our prices are fair and transparent: you only pay for what you need.
Payments must be made by debit or credit card.
Yes, you can request cancellation of the service as long as your personal lawyer has NOT started to manage your documentation to initiate the procedure.
The money will be refunded to your card in less than 14 days. See our Commercial Conditions.
You will always have personalized attention and direct contact with your immigration lawyer.
You can communicate at any time (as long as it is business hours and about the services you have hired) by email or telephone, whichever is more comfortable for you.
Do you need more information?
Ask us anything in our
contact form.
We want to listen to you and know what your doubts are or what you need in relation to our immigration services. You can count on the advice of our experts to clarify all your doubts.
Couldn't Find The Procedure you were looking for?
We'll Contact You Right Away!