services for expats in spain
Leave No Document Behind: NIE, TIE and all you need!
If you will be living in Barcelona as an expat you might need this
Documentation to live in Spain
Foreigner Identity
Number (NIE)
Tax identification number assigned to every foreigner who carries out an economic or professional activity in Spain, regardless of their length of stay. It's necessary for almost any procedure of daily life.
TIE or EU Registration Certificate
The Foreigner Identity Card for Non-EU citizens and the EU Registration Certificate (or Green NIE) for EU citizens, certifies the right of a person to reside in Spain. Both cards contain the assigned NIE.
Empadronamiento
It is a registration process in the City Hall that allows individuals to declare their place of residence in Spain. It is required for accessing public services and benefits.
Social Security Number
It identifies the citizen with Social Security, which provides residents with medical assistance and social benefits in cases of unemployment, old age, sick leave, etc.
Individual Health Card (TSI)
It is the document that identifies and allows foreigners to have access to medical centers and services of your assigned public health system.
Spanish Residence Made Effortless
Experts in Consulting and Services for Expats in Spain
Whether you're starting from scratch or need assistance with specific documents, our expert team efficiently manages each case, prioritizing their timely acquisition and minimizing potential risks in the application.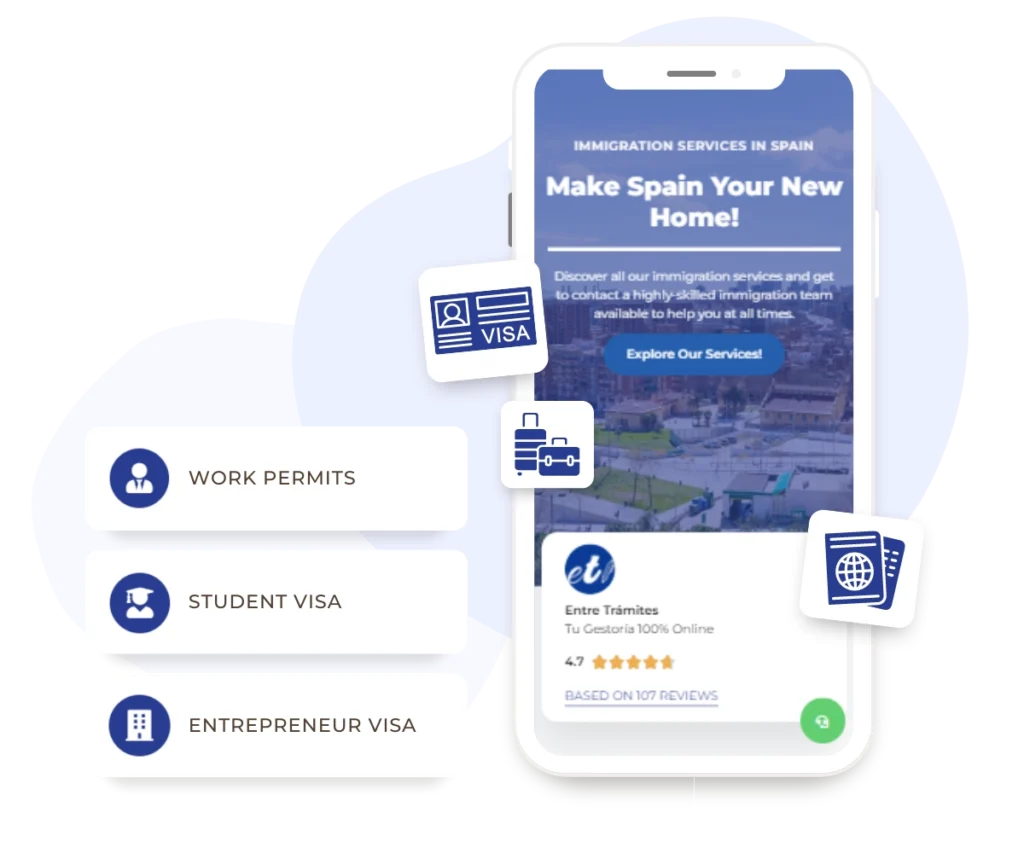 Experience a smooth and efficient journey to obtain all the documentation needed for living in Spain as a foreigner.
Our streamlined process not only saves you precious time but also ensures cost-effective solutions.
Book a free consultation with an expert here!
Talk to an experienced team
With in-depth knowledge of Spanish immigration laws and processes, our dedicated experts will provide you with the highest level of guidance and support.
Your immigration matters are in the hands of trusted professionals who are committed to making your transition to Spain seamless and stress-free.
Get to know more about us!
knowledge and expertise to handle every case of residence in spain
Spanish Residence Procedures per City:
Affordable Solutions, Premium Quality
Click a button according to your case and we'll display the options that may suit you
Other Popular Services for Expats in Spain
Spanish residence Permit and Visa
Become a Self-employed in Spain
Would you like to know more about our services?
Read All Our Client's Reviews
¡Muy recomendable! Trato amable y muy profesionales. Tenía dudas sobre abrir una empresa en Estonia y en una videollamada Louis me aclaró todas las dudas. Muchas gracias 🙂
Great experience with them, and special shout out to Dahianna for her prompt replies and patience in clarifying my questions. Removed all headache from me, which was the most important. It costs more than just helping with bookings, but for us it was worth the services provided
Sandra Vergara
18/11/2022
Tuve una cita gratuita con Elizabeth y me pareció muy buena la atención. Tiene el conocimiento necesario y aclaró todas las dudas que tenía. Gracias por su servicio
Falta de profesionalidad y tardanza en las respuestas. Por el mal asesoramiento se nos alargó el proceso meses. Lo positivo es que al final nos devolvieron el dinero.
Servicio excelente, rapidez, profesionalismo. Empáticos con las situaciones de los clientes. Luego de hacer tu pago, te llega un email con los pasos a seguir, con el nombre de tu asesor y demás detalles, brindando muchísima confianza (cosa que falta en muchísimas gestorías actualmente). Los recomendaría al 100% si quieres que te atiendan profesionales reales que les IMPORTA genuinamente el éxito de tu proceso legal.
Justina Oigbochie
22/10/2022
If you want 100% excellent client service, follow up and results I would recommend entre trámites They really amazed me and I recommended them to my school and entire network. Thank you for your support guys.
Un excelente servicio, súper amables, muy profesionales y con todo el conocimiento necesario! Recomiendo sus servicios 100%.
Very helpful and informative consultation. They are knowledgeable and have up to date information about Spanish tax laws and upcoming changes to autonomo fees.
Muy profesional...y las dudas resueltas muy rapido....espero aconsejarlo para amigos.
Entre trámites tiene un equipo joven y muy dinámico. Saben de lo que están hablando y saben cómo aconsejarte para que tú y tu empresa obtengáis el mejor resultado posible. Indispensable para navegar el laberinto de la burocracia española. A very knowledgeable team. I will definitely keep using them. Excellent work.
Expert Advice and Services for Expats in Spain
Free Immigration Consultations Tailored for You
Get a 30-Min Consultation with a specialist to solve all your doubts about the immigration procedures and paperwork you have to get your residence in Spain.
You can see all the prices we manage for Non-EU Citizens and EU Citizens in our pricing section.
Payments must be made by debit or credit card.
Our prices are fair and transparent: you only pay for what you need.
Yes, you can request cancellation of the service as long as your personal advisor has NOT started to manage your documentation to initiate the procedure.
The money will be refunded to your card in less than 14 days. See our Commercial Conditions.
You will always have personalized attention and direct contact with your lawyer.
You can communicate at any time (as long as it is business hours and about the services you have hired) by email or telephone, whichever is more comfortable for you.
Do you need more information?
Ask us anything in our
contact form.
We want to listen to you and know what your doubts are or what you need in relation to our immigration services. You can count on the advice of our experts to clarify all your doubts.
Do you need more information?
We'll Contact You Right Away!