In this article, we are going to explain how to apply for the digital certificate of the Fábrica Nacional de Moneda y Timbre (Royal Mint of Spain), with which you can carry out most of the online procedures with different Public Administrations. You can request this digital certificate directly through your Internet browser, so you will not have to go to the police or depend on the DNIe (Electronic DNI).
First, we will talk about what are digital certificates, and what are their main differences. In addition, we will show you step by step, the process to request yours. We warn you straight away that one of the mandatory steps is that you personally have to go to a public office to confirm your identity.
In this article, we are going to explain how to request the Digital Certificate through the traditional method, without having to install anything, although you will need to use Internet Explorer or Firefox 68. The FNMT has launched a new tool to do it from any browser, but after a lot of trying, we personally could not request it using those. So we stuck with the previous version!
What is the Digital Certificate?
Digital certificates are used to verify your real identity online when making procedures with the Public Administration. There are two types of digital certificates, those included in the Electronic DNI chip and those issued by the Fábrica Nacional de Moneda y Timbre (FNMT).
You can use either, depending on which one is more comfortable for you. To obtain the FNMT certificate, you just have to go to their web, apply for the natural person certificate and follow the steps they recommend. You will end up downloading a certificate that you can install in Chrome, Firefox or Edge.
The Electronic DNI certificate is much easier to obtain but more complicated to use. When you receive the card, you will be given an envelope with the PIN of your DNIe. Although, to use the certificates that come in it you will need to have a compatible card reader if it is a DNIe issued before 2015, or the NFC chip of the mobile with an official compatible app. In addition, the Electronic DNI certificates must be renewed every few years, since they are valid for a maximum of five years according to their official website, by going to one of the update points of the nearest police station where they are processed.
In the end, the certificates issued by the FNMT are easier to use, and you will not need any PIN, you will only have to install them on your computer or browser. Both types of certificates will have to be renewed every few years, so you will have to pay attention to their validity dates so that they do not expire.
How to apply for the digital certificate?
The application for a Digital Certificate of an individual or citizen can be done online. The first step is to check if your browser is compatible. To make the request you will need Internet Explorer,  Firefox 68, or earlier versions.
Neither Chrome, Edge, nor Firefox after version 68 work. To use Internet Explorer or Firefox version 68, go to this link. In it, you will see the pages where you can download specific applications to be able to operate with these browsers and make your request.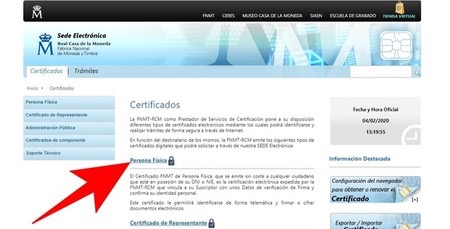 Now, you have to enter the FNMT certificates website, whose address is this. To request your personal certificate, click on the option of Natural Person.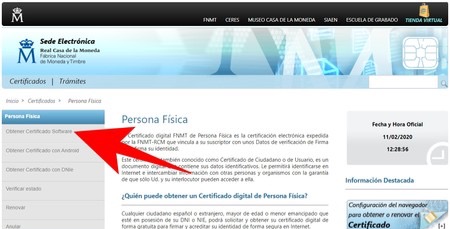 Now, you have to go to the left column and click on the option Get Certified Software that will appear in the menu. There is an Android certificate option with an official app, but this one doesn't always work properly.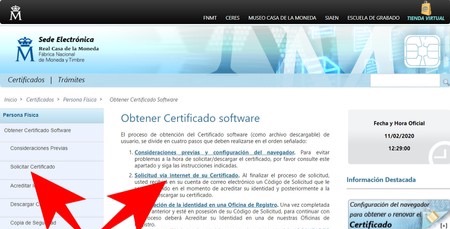 Once you enter the section, click on Online application for your Certificate.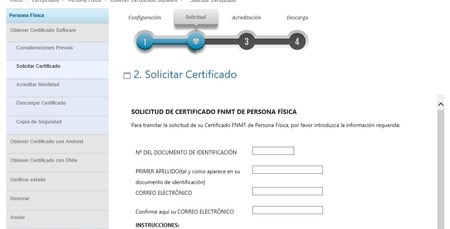 A screen will open where you must fill in your details. The only thing it asks for is that you input your DNI, your first surname and an email.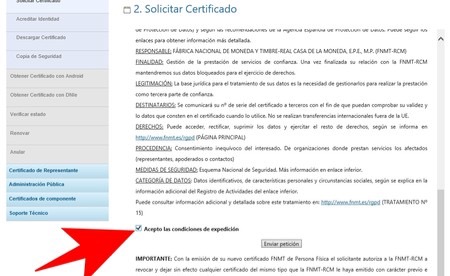 When you click on the link, the shipping conditions will be displayed on the same page. What you have to do here is tick the checkbox I accept the terms of delivery and press the button Send request. Once completed, you will receive an email with your application number, which will be associated with your DNI.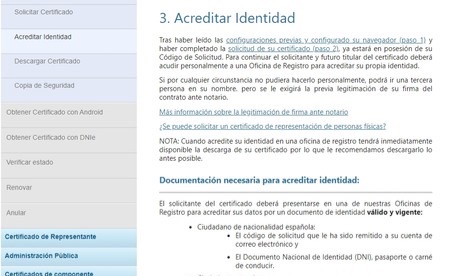 Once this first step is finished, you have to prove your identity in person at one of the authorized offices. You will have to go with your application number and DNI. Depending on the chosen body, you may need to request an appointment in advance.
Make an Appointment in the Tax Agency
Make an Appointment in the Social Security
On this website, you have an office locator to make it easier for you.
How to download and install the Digital Certificate?
Once you have gone through the chosen office to prove your identity, a message with a code will arrive by email through which you can download and install your certificate. If everything goes well, after accepting the conditions, a window will appear in which the installation will proceed.
It is very important that you do not make any changes to the operating system or browser from which you made the request, since there is metadata that will be used to verify that you really are the same person and to be able to install the certificate. The certificate must be downloaded and installed from the same browser you used to make the request. Therefore, do not make any updates in that period.
Also, keep in mind that the certificate can only be downloaded for a limited time, so it is not possible to save the email just to download it again after a year. Once installed, you will be able to export the digital certificate.
Let's talk!
We want to listen to you and know what your questions are about the procedures you have to carry out. Count on the advice of our experts to clarify all your doubts.
In Entre Trámites we invite you to know about all our consultation services. Fill in our contact form and we will call you to help you as soon as possible, schedule your online consultation, or simply text our Whatsapp.
You may also be interested in: