¡Ops! Ha ocurrido un error en el pago. Vuelve a intentarlo nuevamente o ponte en contacto con nosotros para poder ayudarte.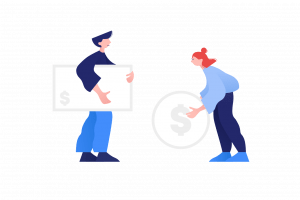 Te asesoramos y gestionamos todos los trámites de constitución de la sociedad.
Queremos ser tu apoyo al momento de emprender
El mismo día de la firma ante notario tendrás un NIF provisional y copia simple de la constitución para que puedas empezar a operar.
Tres semanas más tarde, tras la inscripción en el Registro Mercantil, tu sociedad estará totalmente constituida.
Esto dicen sobre nosotros
JENNIFER ANDREA JARAMILLO PANTOJA
2022-05-03
I am making a move to Spain and before I had my call with Entre Tramities I felt overwhelmed with the financial implications of moving, the tax rate and what I would need to do with my investment portfolio. As well as how to set up my visa and business. The information I received was given to me very quickly, and followed up with a detailed email and explanation of what the next steps were and what was needed from me. They offered me a fast, helpful service and competitive rates. It was very clear from the first call they know what they are talking about and can be trusted, highly recommend.
Wow. Superb consultation with Louis. Had all the answers I was looking for. Clearly explained. Very friendly. Highly recommend.
Felipe Cabezas
2022-04-09
Fantastic service. I needed support within a tight timeframe, and they provided quality work with quick communication. Recommended, for sure.
I am new comer to Spain and needed help to register as Autonomo and setup my limited company. The service I received from Entre Tramites was excellent. I got valuable advice and excellent and fast service. Very quick responses to my questions and clear guidance through the whole process.
sara sanchez benitez
2022-02-24
Yo e tenido una experiencia que puedo decir nefasta, esperando a que me llame la señorita Elissabet y nada esperando no e conseguido nada.
Steve Sutherland
2022-02-22
Excellent initial call. Clear, insightful advice with a prompt and comprehensive follow up. Thanks Louis!
Genuinely appreciated the thoughtful consideration given to my immigration concerns. I didn't feel rushed during the consultation and the outcome is something I'm comfortable with pursuing.
The level of understanding of Spanish taxes in connection with entities in other countries is top-notch. All my questions were answered spot on and I will definitely work with them when I move to Spain.